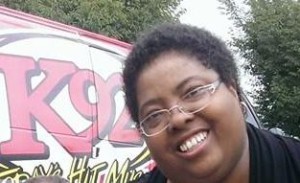 UPDATE: Sad to report that Stephanie passed away on Christmas Eve December 24, 2016
Stephanie "Sophie" Campbell 47 of Roanoke VA is known for her faith in God which keeps her positive. Friends and coworkers at Wheeler Broadcasting had come accustomed to her smiling face and friendly demeanor. Some often wondered how she has always been so positive through the many challenges in her life. She is known for taking care of others including her son Rudy with cerebral palsy who requires constant care.
As a matter of fact in May 2013 shortly after one of her sons hospital visits she herself was admitted due to pain in her legs. After more testing she was diagnosed with a rare form of Lymphoma in which she had to leave her son and husband Michael and travel south to NC for treatment at Duke University Hospital. Doctors have determined that she needs a bone marrow transplant but like so many others she currently does not have a matching donor.
Because of her selfless attitude Stephanie had previously participated in bone marrow drives at Wheeler Broadcasting where she has worked for 15 years. Wheeler Broadcasting has hosted some 30 bone marrow drives in the past 5 years but now they are doing bone marrow drives for one of their own.
Stephanie is very thankful for all of the people who have come out to register for her and is hoping somewhere there is a match for her.