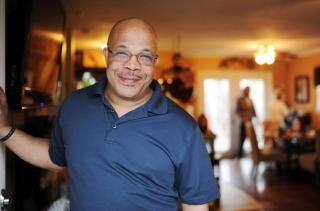 In 2012 Phil Meeks now 47 years old went to the doctor with shortness of breath and pain in his legs thinking it was because he smoked cigarettes. The news he got was shocking. Not only was he was diagnosed with AML (leukemia) in August of 2012, he was also given just 30 days to live unless he started treatment immediately.
Phil was in and out of the hospital for several months getting chemotherapy. Although the cancer went into remission after the first round of chemo, called induction chemotherapy, doctors told him he must have a bone marrow transplant for long term survival. This was because the leukemia was so aggressive. At the same time he was also informed that he might not be able to receive this life saving transplant because of his chances of finding a donor. Due to being an african american Phil was told his chances were only 20% because of the lack of Black donors on the registry.
Phil thought his days were over but he says "God blessed me with a donor and I had my transplant in January of 2013." Phil has since been very active for the cause by volunteering with BeTheMatch to help sign up donors and trying to really get minorities involved in the greater Louisville KY, IN area.