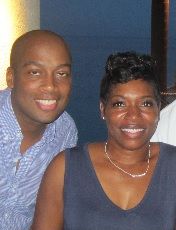 Ulton Listenbee is a two year survivor of ALL Leukemia and a Marrow Recipient. After 4 phases of chemotherapy and days of full body radiation, he is now in remission. He is a man of great faith with a contagious spirit and an ever present smile. His goal is to be a positive role model for all those who cross his path. Ulton offers these words of encouragement: "I want to be an inspiration to those who are facing illnesses similar to mine. I want to share the message of turning a negative situation into a positive one and to change people's mind set, that cancer is not the end of the world. (It's a Win-Win situation)We don't know what the outcome may be in life, "So live life to the fullest now and become a testimony to others."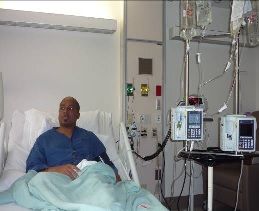 My sister Dorothy was my donor. When the hospital notified her that she would be a perfect marrow donor for me, she did not hesitate to go through the donation process. Later I learned that she'd prayed over her body every day, asking God to oversee the entire process and that it would be a success.  It was definitely a success! I was blessed with something most people would not be able to wrap their minds around. Many were praying for a physical healing, but I got something much greater than that. I'm a new creature in Christ. In my old life I walked in darkness and light (Luke Warm), but the darkness has passed and the light is shining.  I thank "GOD" for placing the right people around me during this trying time:  My lovely wife Malinda, courageous siblings, and dedicated cousins, in-laws, friends, co-workers and hospital staff. I am forever grateful for The New Hope Missionary Baptist Church pastor and members who prayers never seized and the bold prayer warriors and pastor at Greater Missionary Baptist Church.
I cannot thank my sister enough for the love she's shown me, by allowing God to use her to give me a second chance at life. Her unselfish deed reminds me of John 15:13 "Greater love has no one than this: to lay down one's life for one's friend." Even though my sister doesn't see her acts as a big deal; I see it as a big deal, because many of us are not registering to be marrow donors. Due to lack of knowledge and fear, many shy away from becoming marrow donors.  Now I have become an advocate to encourage African Americans to become donors because our brothers and sisters are dying due to the lack of similar ethnic donors.
I hope everyone will be encouraged by these words, John 14:27 "Peace I leave with you; my peace I give you. I do not give to you as the world gives. Do not let your hearts be troubled and do not be afraid."
"Love is the antidote to our healing"-Ulton