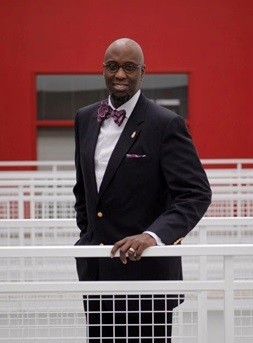 -written by Ashley Johnson, New Pittsburgh Courier Staff Writer
A true beacon in every sense of the word, Dr. Rex Crawley's passion for life and his commitment to the betterment of the community and its people always shone through. Crawley, who had been battling non-hodgkins lymphoma, lost his bout early Nov. 25 (2013) with his wife Daria by his side at Shadyside Hospital at the age of 49.
Dr. Crawley, who earned his doctorate at Ohio State University, was the assistant dean and a professor at Robert Morris University's School of Communications and Information Systems. He also served as the endowed chair and executive director of the Uzuri Think Tank and as the co-director of the Black Male Leadership Development Institute. Crawley is survived by his wife, Daria, and two sons, Xavier and Vaughn.
As the co-director of the Urban League of Greater Pittsburgh and Robert Morris sponsored BMLDI, Crawley, who served his position for six years, was responsible for guiding African-American males in grades nine through 12 through a yearlong program designed to increase educational and leadership opportunities.
Among many other things, one of Crawley's recent tasks was advocating for African-Americans to get tested and become not only bone marrow donors, but organ donors as well.
"I'm hoping my story will enlighten the community because I am committed to increasing awareness of this issue. Even if we are unable to find a match for me, my concern is for the thousands of cancer patients that are living day-by-day and waiting for a match, he said. When Dr. Crawley passed, he did not have a matching bone marrow donor available on the Registry.
"We, as a community, have to come together and get past the stigma of donation, not just with bone marrow, but organ donation too. I'm asking people to just get tested, get on the list. Without getting registered you never know if you have the opportunity to save someone's life." Crawley was also an active member of Kappa Alpha Psi Fraternity and served on the boards of the Community College of Allegheny County, the August Wilson Center for African American Culture and Be The Match Marrow Registry.
————————————-
Although Dr. Crawley passed away before he could see this project through, the Divine 9 will collectively work, together along with Be The Match, in creating a local donor registry drive focused on increasing the number of African-American registrants. The goal is to have 100 new African American registrants locally: http://triblive.com/news/allegheny/5389056-74/marrow-bone-match#axzz2qIEVK6BF