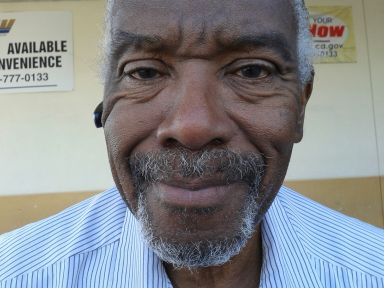 GREAT NEWS: (July 1st, 2016). After more than three years of searching Lonnie recently received notification that a match was found outside of the United States. He is Scheduled to be admitted to the City of Hope Hospital on July 19th, 2016 for eight days of Chemotherapy and then a transplant on July 27th. His was told his tissue type is extremely rare and the fact that he found a match is a miracle. Lonnie celebrated his 68th birthday on June 26th and is in great spirits.
——————————————-
Costa Mesa DMV Supervisor in Urgent Need of Bone Marrow Donor
written by Kathy Clinkenbeard
It was the boredom of retirement that drove Lonnie Clausell to his new life at the Department of Motor Vehicles ten years ago. Lonnie is a "people person" for sure, with a strong work ethic. He says, "Sitting at home and twiddling my thumbs wasn't for me", so he took on the job of a maintenance supervisor with the State of California to keep busy. After surviving triple bypass surgery at the age of 50, and a stroke at the age of 60, Lonnie spent three months in a rehabilitation facility in order to learn how to walk again. Two years ago, he was diagnosed with a progressive form of cancer and congestive heart failure. This year, at the age of 65, he is literally fighting for his life.
Although he originally moved to California at the age of 12, Lonnie is quick to tell you that his life began in Alabama and that he's still a "southern boy." When I asked if I could write about him, he smiled sweetly and said, "Yes… only because it's YOU!"  I can tell you that he's still got game and knows how to use that southern charm.
His work day begins with a long drive from Watts, in South Central Los Angeles, to Costa Mesa. He's no stranger to adversity, having lived there for the past 31 years. In fact, he witnessed first-hand the fury and pandemonium that was the Watts Riots of 1965. That event alone established a key turning point in the African-American Civil Rights Movement. Nearly three decades later, he saw the ferocity and destruction brought forth by the Rodney King Riots that erupted in 1992.
In a previous life, he was employed by the Coca-Cola Company for 27 years, working his way up from driver to salesman. He and his former wife raised 5 kids, who collectively produced 12 grandchildren. Lonnie clearly has a lot to live for. A year ago, he became great-grandfather to a feisty little boy named Ryan, who is affectionately described as a "bad-ass, who don't listen." This defiant little guy was born in the same season where Lonnie was still learning how to live with a rare form of blood cancer. They called it Myelofibrosis.  It appears that the propensity towards a strong will and self-determination runs in the family.
The City of Hope placed Lonnie on a waiting list two years ago, because he needs a bone marrow transplant. There are necessary requirements that must be met during the challenging process of finding an appropriate bone marrow donor. In this case, the specific criterion includes the racial profile of a healthy black male of mixed ethnicity, who is between the ages of 18 to 44.
In the meantime, Lonnie enjoys communicating with the public on the job and dealing with the seasoned homeless who seek refuge on the property after hours.  There is talk on the street of a new, tougher brand of chronic homeless in the area.  Rumor has it that they are being pushed out of overburdened encampments, from the Santa Ana Civic Center area, into the arms of Costa Mesa. Lonnie says these new ones are typically older and less cooperative. They "lack respect and are more stubborn than ever." If anyone is up to facing that challenge, it is Lonnie. He has managed to serve as a sort of father figure to some, stern disciplinarian to others and mentor to a few. He finds crack pipes and other drug paraphernalia abandoned around the building on a regular basis. His privately held beliefs dictate that, "You pick and choose your battles" and "You're never too old to learn." Drawing from common sense and experience, he says, "It's amazing how a smile can change somebody's attitude in a day."
When not at work, Lonnie attends services at Crenshaw Christian Center in Los Angeles, where his faith is the primary focus. When he talks to God, what does he ask for? "Lord, just give me the strength to see another day."
Here in Orange County, there is a light that shines every Monday through Friday. It shows up during swing shift, from 3 p.m. to 1 a.m., and many can feel its warmth. Caring is about community and there is healing power in love.
If you would like to offer words of encouragement to my friend, please address cards and letters to:
Lonnie Clausell, Maintenance Supervisor
Department of Motor Vehicles
650 W. 19th Street
Costa Mesa, CA 92627
If you think you might be a potential donor match for Lonnie Clausell or are interested in finding out more about bone marrow donation,  please contact the City of Hope at 1-800-826-HOPE or visit their website at: cityofhope.org.