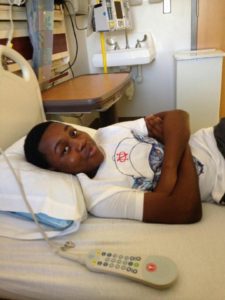 Summer is one of the most exciting times for a kid. Summer means swimming pools, the ice cream man, hanging out with friends, and enjoying just being a kid. For 11-year old Micah Johnson, his over the summer break story will be much different. For Micah, his summer has consisted of being sick, having to get daily shots of medicine, a liver and bone marrow biopsy, platelet transfusions, and being told that he needs a marrow transplant to save his life.
Micah's favorite sport is basketball, not only is he a fan, he is a player with his local league. After one of his games in February, Micah's dad, TSgt. Javon Lee noticed his son's eyes had a yellowish color. "I thought he was just dehydrated, as days followed he got worse. He had an ankle injury, so when we took him to the doctor for that, I had them look at his eyes," explains Lee. Micah's basketball season came to an abrupt end.
Yellowing of the eyes is a sign of liver failure, so Micah was sent to a specialist for a liver biopsy. Because he was high risk for bleeding problems, they had to do the biopsy starting through a vein in his neck. Micah also had to receive platelets, because of his bleeding risk. The results from the liver biopsy came back and indicated something was wrong with his body's blood system, so he was sent to see another specialist, who then ordered a bone marrow biopsy. Micah's marrow biopsy revealed he has severe aplastic anemia and his doctors said he would need a stem cell or marrow transplant to cure him.
Micah's family has been tested to see if they can be his donor, but like most patients who need a transplant, no one in his family is his match. Micah's cure will come from a complete stranger. Lee says that for his family, finding a match for Micah would mean "everything in the world."
"To tell an 11-year old he's going to be living in a bubble, he's not allowed to be in public areas, he has a port in his chest, he can't do anything physical, he has to have medication injections every day, he has to be isolated from the world when he should be enjoying his summer break…it isn't fair!" expresses Lee.
Micah will continue to have labs drawn twice a week and will have weekly platelet transfusions while the search for his matching live-saving donor continues. Micah's father is a Technical Sergeant in the US Air Force; their creed is, "I am an American Airman. I am a Warrior," but Lee says his son, "is stronger than I could have ever been, I really admire him for that. 11-years old, that's tough!"
Patients typically find a match from someone who shares similar ancestry to them. Being African American it is more challenging to find a match, because there simply aren't enough registered donors from within the African-American community. Micah's family hopes to change that by sharing his story and hopes to encourage people of all races and ancestry to register. Lee's plea to the public is "Help. Help in whatever way you can. This is one moment you could potentially change this 11-year old's life, if not him, someone else!"
To learn more, volunteer, or host a drive: Brian Allison 318-834-7710, [email protected]
Support and follow Micah on Facebook: Micah's All-Stars