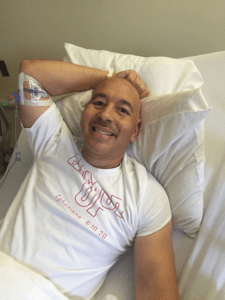 "I would have never thought it would be me," says Shreveport native Andre Clark, about his recent cancer diagnosis. Since his days of playing sports at Huntington High School, to keeping up with his four kids, Andre has always been active and healthy until he was diagnosed with Acute Myelogenous Leukemia (AML). Thinking back in disbelief Andre explains, "I was playing softball the week before, then all off a sudden it hits you."
Andre's journey started back in December 2015 when he started having stomach pains. His doctor discovered that he had a stint left inside of him from a gallbladder removal surgery that he had in 2013. After the surgery, Andre still had soreness to his right side, but disregarded it as soreness from the removal of the stint. By April, Andre was still hurting and he also developed shortness of breath. It was determined that he had fluid on his lung, so his doctor performed simple procedure to remove the fluid. "I had only been home for about an hour after the procedure, when my doctor called," says Andre, "He told me that he needed me in the hospital right now!" It was determined that he had immature blood cells and his platelets were extremely low. Over the weekend, the oncologists told him that they suspected AML, but the official diagnosis didn't come until the following Monday morning, April 18, 2016.
"I think the first thing that went through my mind was my family, I thought about my kids," Andre explains, thinking back "I can't afford to go nowhere, because I still have to raise them." Andre is married with four children, ranging in age for 10-years old to 22-years old. "My biggest thing is my family," reflects Andre, "My daughter sings and is into acting, my young son plays baseball, travel ball, my 18-year-old son is a typical 18-year old and my oldest daughter is into modeling."
Andre even started a t-shirt company, Suited With the Armor of God or SWAG for God, to influence youth to make better decisions in life and to keep God with you at all times, because you never know what may come up. "I had no idea that I would have to put this in place for myself this year," says Andre. He explains that his faith in God is what has helped him through his battle. "Even in the hospital, I wore a lot of our shirts. I have to stay armored up at all times, keeping my mind straight and keeping His word," Says Andre.
Since his diagnosis, Andre has received multiple blood and platelet transfusions as part of his life-saving treatment, but doctors have said that his best chance for a cure is a bone marrow transplant. Before he can have his transplant, a matching donor must found for Andre. Because patients typically find their match from someone of the same race and ethnic background, Andre's matching donor is most likely going to be African American. Unfortunately, there is a shortage of registered African-American donors making it very difficult to find his match. "Once someone tells you that you have only a certain percentage of a chance to find a donor, because you are African American, it makes you wake up" explains Andre.
The biggest reason people aren't registered to be a donor is lack of education and awareness. Andre's wife Evette Clark, explains that she had a friend who needed a stem cell transplant about four years ago. "I have seen things about Be The Match on social media, and I made a financial donation, but you really don't connect with it until it hits home. Now it's on my doorstep."
By sharing Andre's story, the Clark family is hoping to encourage more Black and African Americans to join the Be The Match registry. Evette reminds us that "You never know whose life you might change. It's important to get the information and get registered!"
To learn more about Be The Match, become a volunteer, host a drive, or join the registry, please visit www.lifeshare.org/bethematch