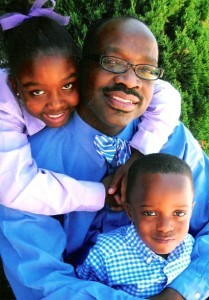 Kendrick L. Beavers, native Dallasite and born visionary, received the vision for The Kenny Beavers Foundation while fighting for his life.  In 2004, he was diagnosed with multiple myeloma cancer and his life would never be the same. As part of the harsh treatment to fight this disease he endured high dose chemotherapy and the first of his two bone marrow transplants was on Good Friday 2005. Despite all of this he continued to face setbacks. During this trying time, God showed him his life's purpose; he was destiny-bound.
Born out of pain, adversity, and uncertainty were clarity and a strong determination to help others.  In 2010, he began his Health, Hope, and Healing Tour, which is now called The Encouragement Festival.  With the support of his family, friends, and many healthcare professionals/facilities, this tour featured inspirational music for its audiences as well as testimonies of those who were cancer survivors, and those who had been impacted by the disease in some way.  The events not only provide encouragement to its attendees, but they promote awareness as well.   Because of these events, more people are registered get tested for the "Be the Match" program to help save the lives for those that might be in need stem cell transplants.
In the summer of 2012, The Kids Matter Summer Program kicked off. The program is held at the Tabernacle of Praise gymnasium, in Pleasant Grove. The program's objective is to provide daily exercise with healthy food.  We believe that we can help shape the minds of those who attend toward a lifestyle that is more health-conscious. 
On September 30, 2012, Kenny made his Heavenly transition after 8 years of battling cancer. The many projects and events that he was tirelessly working on (even from his hospital bed) will continue to live on. The legacy continues through The Annual Golf Tournament, The Encouragement Festival, The Kids Matter Summer Program, and what will prove to be his crowning achievement, The Lemonade Ranch, a retreat and sanctuary for people with terminal illnesses. 
The Kenny Beavers Foundation, is a 501c3 non-profit organization. Through his loving wife Janice Beavers, his children Kennedy and Kendall, as well has a host of family and friends, Kenny's life work will continue to grow and impact the lives of many. "It is more blessed to give, than to receive". Acts 20:35