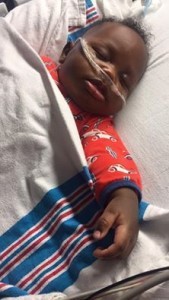 UPDATE: Sadly Bryce passed away on July, 23rd 2016
From the facebook page, Bryce's Bubbling Bravery: 2 Timothy 4:7 I have fought the Good Fight, I have finished the race, I have kept my Faith. This Morning our Sweet Angel went on to be with his Heavenly Father. No more sickness or sorrow, no worries about the troubles of tomorrow. His smile will forever be with us, his strength will forever encourage us, and his love will always surround us. Rest In Love Bryce Daniel Boyd, until we meet again. #ForeverTeamBryce
=====================
SHREVEPORT, LA (KSLA) – An ArkLaTex infant battling a rare disorder is in desperate need of a bone marrow transplant, but first, doctors need to find a match. Bryce Boyd's mother says the joy following her boy's birth in September was short-lived, thanks to a life-threatening diagnosis in December.
"It was an exciting time but it didn't last for very long. Went from exciting to scared," said Jasmine Boyd. At 3 months of age, doctors told Boyd her son has Wiskott-Aldrich syndrome. "He has virtually no immune system," Boyd explained. "His white blood cell count is so low and he's on chemo treatment."
"Right after his last surgery, he wasn't smiling as much. It was worse on me, because I needed to see him smile which is what he always does, to let me know that everything is going to be okay," said Boyd. READ MORE AND SEE VIDEO….
Below is from Bryce's Bubbling Bravery (Facebook Page)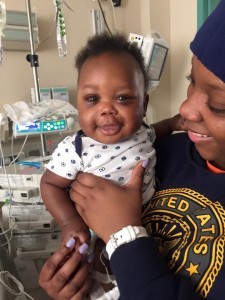 4 month old Bryce Boyd who lives in Farmerville, La. was born with a rare, life-threatening blood disorder called Wiscott-Aldrich Syndrome and needs a STEM cell transplant. This syndrome leaves him with low blood platelet counts, which means his blood will not clot efficiently and a poor immune system leaving him susceptible to many other diseases.
This group page is to help share Bryce's journey to raise awareness for this family, and to gain support for the upcoming Bone Marrow drives.
Bryce is the son of John and Jasmine Wilson Boyd.
Per the study of the National Institutes of Health, it only affects 1 to 10 out of every 10 million male children. It is a rare X-linked recessive disease characterized by eczema, thrombocytopenia (low platelet count), immune deficiency, and bloody diarrhea (secondary to the thrombocytopenia).
Website
http://m.gofund.me/BrycesBravery?rcid=87900c9251f74636a8c651fb5e529ec2