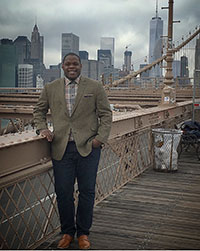 Rodrequies Poe joined the national registry of bone marrow donors in a somewhat comical way. He elected to join the United States Navy in March of 2011. During his first few days of boot camp, sleep was at a premium. "You spend the days signing your life away and doing what you were emphatically instructed to do." At some time during his first days he was "volun-told" to join the national registry of bone marrow donors. "Not a person in the room refused."
While serving in Newport, Rhode Island, Rod received the call that he was a potential match for a recipient in need of transplant. While today, he remembers distinctly where he was, at that moment, he could not remember where he signed up (probably due to the lack of sleep) or why they were even calling him. "I didn't know when or where I joined… but it didn't matter. Someone was in need."
Being a medical professional at the time and working in a Naval Hospital probably aided Rod in his decision making. It was clear from the onset that this was a very important and rare opportunity for someone. The decision to meet the challenge was an easy one. "When I heard about the decline rate [among donors], I was appalled – somewhat offended. Knowing how the process goes, to say 'no' after that…I just could not believe humanity."
In February of 2013, Rod boarded a plane to fly to Washington D.C. to complete his bone marrow donation. He calls the experience the "most humbling thing" he has ever done. He was blown away by the university's beautiful architecture and the accommodating and well-trained medical staff. The top-flight care helped off-set the physically demanding nature of the procedure. An athlete training 5 or 6 times a week at the time of donation, "it took a while [to recover], maybe a month or two before I could return to physical activity and almost a year before I felt completely normal."
Not even two months after his initial donation, Rod received his second call to action. This time he would need to donate peripheral blood stem cells (PBSC). Second donations are atypical, but not uncommon. Patients may need additional tubes of blood, certain cells, or entirely new transplants to help boost their flagging health or continue the fight against their disease.
Rod admits that the process is "an emotional roller coaster" and getting that second call made him feel "deflated". Nevertheless he persevered, remembering, "Regardless of where you are in life, there is always someone who has it worse – someone who is at the end of their rope and needs your help."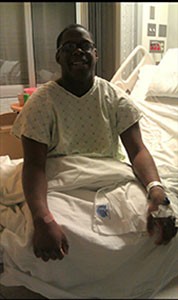 Donation of PBSC is a very different process – similar to blood donation. Rod found it much easier, recovering quickly. His easy-going and ebullient nature sustained him, "It sounds elementary, but put yourself in that person's shoes. If that was your grandmother, your brother, your child, is a month or so of back pain really that bad? And on the flip side, if I needed it, would someone help me? I would hope that no one would say 'no'."
Ironically, Rod now works in Georgetown not even a mile away from where he donated. He acknowledges that the "Donation is something I think about every day…it was such a humbling experience."
Will you be someone's hero? Learn more about donation and how to join at www.salutetolife.org or www.facebook.com/DODMarrow.