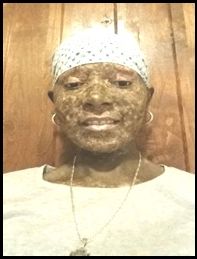 UPDATE August 5th, 2014: Sadly, Wanda passed away August 2, 2014. she was in need of a second transplant but still did not have a perfect match on the registry. Therefore she had another partial match transplant. She was a beautiful soul who praised God even while she suffered. 
Master Sergeant Wanda McDuffie was diagnosed with Acute Myeloid Leukemia (AML) Leukemia a blood cancer and received a marrow transplant in 2011. She served 2 tours overseas and is a OIF/OEF Army Combat Veteran. 
Wanda says, "I am blessed to be alive. I was given a second chance at life by my brother. He committed himself to be my marrow donor without compromising. My brother out of seven siblings was the closet marrow match for me. He was not a full match but a partial match. I'm still alive today because of his unwavering love for me and support; for that I thank God, even though the process has left me with a lot of unnecessary scaring. I did not have a lot of options because there were not a lot of donors available. We need people to be educated, on how to be a donor. The process is painless. We are asking people to become dedicated and committed donors by making a difference in someone's life. Make a difference; give life back to someone in need. You will be a forever hero. Become a marrow donor."
 "Let the healing start with you" ~Wanda~
March 21, 2014 : Due to a relapse of Leukemia Wanda is in need of another donor who is a perfect match.