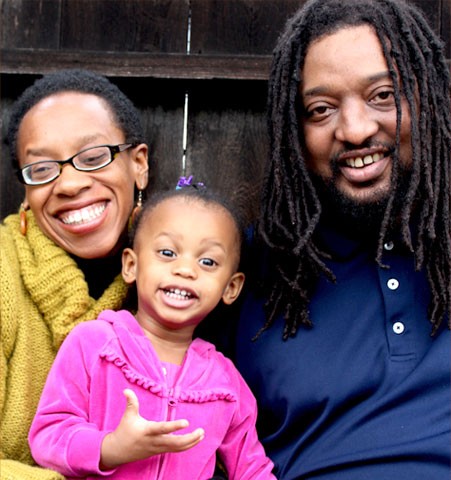 SAD NEWS
Kevin passed away on June 15, 2014 (Fathers Day) at his home surrounded by his family and loved ones. His cancer returned in March and he had been going through treatment in hopes of having another bone marrow transplant. However he started experiencing complications and asked to go home where he passed. He leaves behind his wife and daughter and many others who love and respect him. 
GREAT NEWS!
Kevin received a cord-blood transplant on July 16, 2013. The following is from http://bethematch.org/HD/Happy-Re-Birthday-Kevin-Weston!/
A few months ago we shared the story of Kevin, a California journalist fighting to find a marrow donor, beat leukemia and watch his little girl grow up. He spent months searching for a donor and made it his mission to add 1,000 more African Americans to the Be The Match marrow registry. Which he did!
He found his match among several cord blood units and today is receiving his marrow transplant. His family wanted to share this message:
"We want all those patients out there searching for a marrow donor to not give up. We're here today because there is hope," said Kevin's wife, Lateefah Simon. "And to all those people who joined the marrow registry at one of our drives, supported our family and continue to keep Kevin in your thoughts – THANK YOU."
Simon noted that at least two people who joined at a drive for Kevin have been found to be a marrow match for another patient. "Kevin is doing great and his spirits are high. This is our Day 0 and we hope it's the beginning of many days to come."
Day 0 is a term patient families use to mark the day donor stem cells are transplanted and can begin to grow into a healthy new immune system.

Help Save Kevin Weston – PSA #3 – Bone Marrow Donor Drive from PixieDayWalker Films on Vimeo.
The Following is from 2012:  http://www.kevinandlateefah.com/
In 2012, life was good for Kevin Weston and Lateefah Simon. Deeply in love, the young couple was raising their beautiful daughters Lelah, 1 and Aminah, 16. Kevin, a long time Bay Area journalist, Kevin had just been admitted to the prestigious John S. Knight journalism fellowship at Stanford University. Lateefah, a nationally recognized civil rights leader, had started a job as a Program Director at the Rosenberg Foundation and in the spring was to start the SEERS Fellowship program for social entrepreneurs at Stanford University.
Then, in an instant, everything changed. Now, Kevin and Lateefah urgently need your help.
On August 27, 2012, three days before his 44th birthday, Kevin woke up with a sore throat.
At Lateefah's insistence, he went to Kaiser Hospital in Santa Clara. He was admitted into the ICU, and diagnosed with a deadly flesh eating bacteria – and a rare form of leukemia. Known as T-cell Prolymphocytic Leukemia (T-PLL), the cancer is very rare and aggressive, with only 10 cases per year in the United States. It primarily affects adults over the age of 30.
Doctors told Lateefah that she should gather his loved ones to see him. It might be their last chance to do so, they said. People came in droves from far and wide, organized fundraisers and food deliveries, shared their grief on social media, held prayer circles, stood vigil outside the ICU and hoped for a miracle.
On August 28th, Kevin underwent the first of 5 emergency surgeries to clear the life-threatening bacterial infection.
On Saturday, September 1st, Kevin opened his eyes and told Lateefah that he was ready to get married. And so they did, surrounded by more than 30 friends and family members crowded around his bedside. In photos of that day, Kevin is in a white hospital gown, eyes closed. His face is swollen from the surgeries and raging infection; there are tubes and monitors attached everywhere. "For better or for worse, in sickness and health", Lateefah vowed. Too weak to speak, Kevin could barely nod his head but he squeezed Lateefah's hand.
And then – a miracle occurred – Kevin continued to recover. On September 24th, almost a month after first going to the hospital with a sore throat, Kevin walked out of the hospital with Lateefah, Lelah and Aminah by his side.
But Kevin and Lateefah's story is not over. Today, Kevin continues to undergo chemotherapy and has endured multiple hospitalizations. In order to truly have a chance at life and living, he needs to find a bone marrow donor by the end of February of this year.
Unfortunately, right now, the odds of Kevin finding a match are slim. Only about 7 or 8% of the nation's 10 million registered potential bone-marrow donors are black. Help save Lelah's Daddy. Help Kevin and Lateefah change the odds for their family by helping to increase the number of African Americans registered to be bone marrow donors.