How We Got Here…. 
At the time I was married, 32 and did not have an active lifestyle. I smoked  cigarettes and drank beer and liquor every weekend. I did not attend church. I spent my Sunday's recuperating from Saturday nights. My wife was pregnant with our second child at the time. 
It was sometime in autumn in 2003. I noticed the shortness of breath after climbing one flight of stairs. Then came the night sweats. From time to time I experienced blurry vision. Then my throat started to swell. My Lymph nodes were tender and big. 
I was diagnosed with Mono by one doctor. A throat infection by another, and a "perfect" case of tonsillitis by an ear nose and throat specialist. 
It was getting close to Thanksgiving now. As it got closer to that day I got worse. I was feeling flu-like symptoms. Unusual weakness, headaches, sweating, Feeling very hot, loss of appetite and even some dizziness.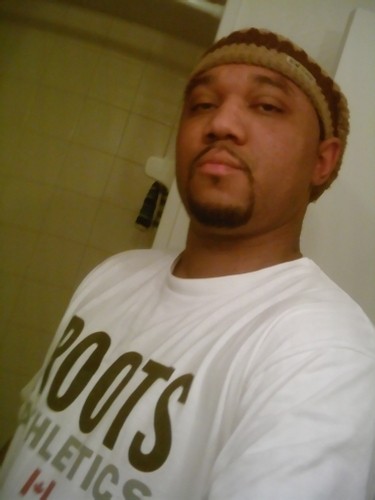 Thanksgiving came and I didn't eat a thing. I never left the bed. I laid in bed Friday and Saturday with the worst stomach ache I had ever had in my life. My wife had enough. She called my mother. All my mother said was "Akiim, if you are not sure about your relationship with Jesus then you need to go to the hospital." I thought she was just talking but she said it again. And this time she made herself clear, as if it had been decided. All I could say was "OK, Ill go" We went to the local hospitals ER.
The Shock…. 
So there I sat awaiting this "bad" news. What's the worst it could be? A very bad ulcer? Then she came, a young female doctor. She told me she was going to be straight forward. According to my blood tests there was a 95% chance I had Leukemia. 
I was in shock. I really didn't even know what Leukemia was. The only time I ever heard it before I was in Junior High. The lady down the street suddenly died of it. She was 33. I am 32. "I'm gunna die". Tears started streaming. 
Then the doctor said something I NEVER thought I would hear from a doctor. She asked "Are You Christians? Would you like me to pray?" I said yes. Little did I know God was already stepping in. I thought doctors were all Atheists, but here she was leading us in prayer in open in the ER in front of the nurses and all.  I don't even remember what she said, not a word. As it turned out she didn't even work there. She was helping out that day because her sister was admitted with something life threatening and they were so busy so she volunteered. That was the only day she worked there. She even came to visit me when I was getting my chemo in a different hospital. She is now my family doctor. 
I was so terrified I could not cry right, Just tears. I worried about my wife and kids. What's going to happen to them if I die? My wife will be a single mother. My kids will never know their father. 
Who will pay the bills? I had no more vacation time and my decision to wait until age 35 to get disability and life insurance has left my family in a bind. I felt so guilty and helpless. I was in a position where I had no control of my life. I had no way to make sure my family had a place to live. Will they get evicted? Will they have to leave town. I was powerless. The tears were coming hard. I was frantic but quite. 
I called to the house and asked to speak to my father-in-law. He is a Missionary Baptist Reverend in MS. He came to see me. I told him how I felt. I also told him that I was ashamed for not preparing my family for the worst and most of all too shamed to call on God. This is because I had not had a close relationship with God in a long time and it seemed insulting to only call on him when I'm sick. I felt like I did not deserve his help. My father in-law talked to my about the book of Job. How God allowed the devil to do horrible things to Job and his family and how God rewarded Job because his faith in Him never faltered. 
But the most important thing I remember, He said "if you believe that Jesus is real, just the same way you believe that floor exists under your bed, you will be healed and God will take your fear from you and hold on to it." Something happened then. It was kind of a blur, but I remember feeling kind of strange. I remember saying that I do believe that Jesus is real. I remember thinking about the floor and how Jesus, who I can't see, is just is as real as that floor that I can see. He said a prayer, then left. That's when I noticed my tears were gone. I felt a big sense of relief. I felt that my family was going to be safe and that I have the power to fight this illness and beat it. It was as if God touched me and took my fears away. 
I prayed that god would take care of my family while I was gone. 
And then it started happening. Soon after my last paycheck was deposited in my account the phone calls began…. from Friends, coworkers, relatives, friends of relatives. Although we did not even talk to anyone about our situation, everyone who called said they were sending money. 
He gave my wife strength beyond belief. Although she was 5 months pregnant, had our 4yr old daughter, and a husband who was in the hospital she was able to take over and do what had to be done. She made all the phone calls and waited in long lines for Social Security, Food Stamps, Rental assistance, medical assistance, and everything else we needed. She prayed and encouraged everyone who called about us. You have unbelievable strength baby and I love you.
The Miracles…. 
Cancer treatment is what they say it is, "Pain and Suffering". A lot. But with the God on your side you can stand strong. I spent Christmas and New Years in that hospital bed. 
That's when the news got worse. 
Although the Oncologist predicted I had an 80% chance of going into remission, the chemo only killed half of the Leukemia cells. My prognosis dropped. At this time I was much more likely to die than live. My only chance of survival was a Bone Marrow Transplant. 
She referred me to another doctor who I call my bone marrow doctor. He told me he thought I had a 40% chance based on my age and current health as long as they could find a donor. (later found out that my prognosis was more like 10-12%) Then the bad news, I have one sibling, my sister, and there was only a 25% chance of her being a match. If not, I had a 40% chance of finding a donor in the National Donors registry because I'm black. Whites had a 95% chance. 
I went through two more rounds of Chemo. Two weeks into the third treatment the Lord answered our prayers again. I got a call from my wife. "She a perfect match!" My sister and only sibling was a perfect match for my transplant. 
I underwent a high dose regiment of Chemo to kill all of my bone marrow and then after a week received the transplant on Good Friday of all days. Three weeks later I was released with a successful transplant. That was in 2004.

i still have issues related to the transplant and it is not easy from day to day. But I am here and have the opportunity to raise my kids. 
MORE….

A year after my transplant one of my best friends from Rochester who had joined the donor registry became a match for an 18yr old kid from the Bronx. He was that kids only chance. And in 2006 months ago I got an opportunity to meet him, shake his hand, and talk about college. 
Good thing he is a forgiving God. Because I never gave anything in my life to help others. I remember when the Blood donation truck would come up to the job. I was like "not me". You now how we get. We don't trust nobody especially with a needle. I say its a good thing that he is a forgiving God because during my treatment I received blood transfusions more than 20 times to help keep me alive even though I never gave anything. But through the grace of God I was able to receive. There were 20 people who I never met, who gave. I owe them.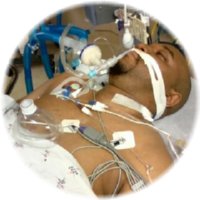 I almost died (again) God wont let me go.

Feb 1st, 2009

(Written Feb 4th, 2009)
I am in ICU right now. Been here since Sunday. I came to the hospital Sunday afternoon with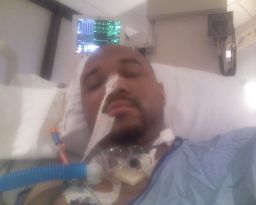 a bad sore throat. But while I was here my entire throat swelled and it blocked my windpipe. (rare sudden condition called acute epiglottises) In other words I was chocking on my own throat. I passed out and they tried to revive me but I flat-lined. "We lost him!" is what my wife heard the doctors say. They performed emergency surgery and were able to stabilized me. 
But after I came to ICU I went "code blue" and flat-lined again, so I underwent a second emergency surgery. They apologized to my wife, and told her that I would have permanent neurological damage because I had no oxygen to my brain for way more than 5 minutes. They expected me to wake up in a few days, weeks, or months if at all. They had her call everyone she and I knew because they told her she was going to need as much support as possible for the next several years. So she did. And everyone prayed. 
She spent the night in the room and left to go shower in the morning. When she got back to my room a couple of hours later I was awake, wide-eyed looking at her. My first question was "What happened?" My second question was "Did you pay the rent?" (After all it was the 1st).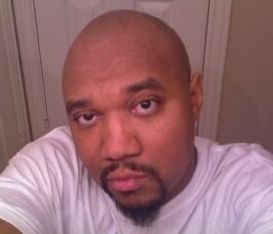 God sparred me once again. No coma, no death, and no brain damage. 5 years ago this month I was suppose to die from Leukemia, but I am still here. In 2006 I hit an 18 wheeler going 75mph and I walked away, and now the devil tried to take me in the ER and again in ICU but I am still here. God don't play and I need to do the same. As I sit here with blood still spewing from my throat I cant wait to get back out there where most of you are and take care of my family. 
If I can survive this with Gods help, Imagine what He can do for you and whatever your situation is. Remember, even when EVERYONE says "Its over", "You'll never make it", "It will never happen", it aint final until God says so. I asked one of the doctors to explain to me in medical terms why I survived. He tried to explain it scientifically but after realizing he was stretching he finally said, You really shouldn't be here, its a miracle. I have met so many people since who have survived many tragedies worse than mine. Its true. Miracles happen ALL OF THE TIME. 
Like Rev Run said "God is love"
Since that most recent brush with death….. 
A month after I survived this ordeal God has made his mission for me clear: 
People and organizations from across the nation have contacted me regarding the mission to add more people to the marrow registry and save lives. They had no idea about my recent brush with death.

I have been asked to join a landmark lawsuit against the federal govt that will save more lives.

I have been asked by the National Marrow Donor Program to become involve with their HBCU (Historically Black Colleges and Universities) campaign to save Black lives.

I have also been asked to help a New York City publicist with their efforts to spread awarness for the need of Adult stem cell treatment for minorities.

I am also a new board member of Preserve Our Legacy INC who will be bringing a series of minority celebrity charity events across the nation in 2010.

I have appeared in a few media outlets for the cause including MSNBC, The Dallas Morning News, and The Houston Chronicle,

I am also upgrading BlackBoneMarrow.com to expand the campaign to save Black lives.

 The future is unknown but it's guaranteed to be the ultimate adventure. The only thing I pray for is that I continue to listen to The Lord and follow his will. I get thrown off track sometimes with health issues, family issues and temptations to get off course. But I know if I continue to follow his path, my hardships will be well worth it. I deal with a lot more issues than the average person but if I dont do what I do, then who will? And that's the bottom line.